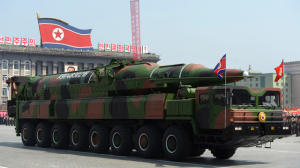 An unidentified spokesman for Pyongyang's Foreign Ministry said North Korea will exercise its right for "a preemptive nuclear attack to destroy the strongholds of the aggressors" because Washington is pushing to start a nuclear war against the North.
'Engulfed in a sea of fire'
At a mass rally in Pyongyang on Thursday, Army Gen. Kang Pyo Yong told the crowd that North Korea is ready to fire long-range nuclear-armed missiles at Washington.
"Intercontinental ballistic missiles and various other missiles, which have already set their striking targets, are now armed with lighter, smaller and diversified nuclear warheads and are placed on a standby status," Kang said. "When we shell (the missiles), Washington, which is the stronghold of evils, …. will be engulfed in a sea of fire."
White House spokesman Jay Carney said at a briefing that the U.S. is fully capable of defending itself after a North Korean missile attack.  U.S. Ambassador to the U.N. Susan Rice reacted to the warnings Thursday, saying North Korea will "achieve nothing" with threats.
'Fourth round of sanctions'
The U.N. Security Council unanimously endorsed a fourth round of sanctions against Pyongyang in a fresh attempt to rein in its nuclear and ballistic missile programs. The new sanctions are aimed at making it more difficult for North Korea to finance and obtain material for its weapons programs.
North Korean threats have become more common as tensions have escalated following a rocket launch by Pyongyang in December and its third nuclear test on Feb. 12. Both acts defied three Security Council resolutions that bar North Korea from testing or using nuclear or ballistic missile technology and from importing or exporting material for these programs.
Do you think North Korea will carry out its threat of nuclear strike on the U.S.? Should the U.S. vote for more sanctions for NoKor?
Source: Fox News
Image: The Guardian