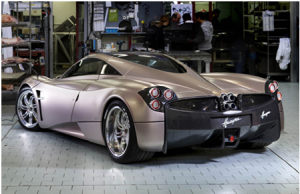 Italian automobile manufacturer Pagani was about to start selling its newest 700 horsepower Huayra (pronounced why-rah) supercar in the United States. Pagani had big plans for the supercar and had priced the Huayra at $1 million. That was until federal regulators in the U.S. stepped in. According to the company, Pagani had applied for an exemption from federal auto safety rules, but it was later rejected by the National Highway Traffic Safety Administration.
Pagani had applied to an exemption to the safety rule of requiring advanced airbags in their new automobile because, according to them, complying with the rule would have cost them "substantial economic hardship". The NHTSA denied the request, which means that the new Huayra would be blocked from being sold in the United States.
According to the federal agency, it had denied the request because Pagani had failed to show how installing the airbags would cause the company any undue financial difficulty. The NHTSA also said that the Italian auto maker failed to show serious efforts in trying to comply with the federal agency rules.  The federal branch has been known to grant temporary exemptions from specific safety rules, especially for car makers that plan to sell limited amounts of cars.
The auto company Pagani had created the supercar Huayra as part of its plan to break into the U.S. automobile market. The new model was engineered and crash tested to meet the safety standards of the U.S. and Europe. Despite the outright rejection, Pagani insists that the car will sell in the U.S., just not in the planned 2012 release. According to a spokesperson for Pagani, the Huayra will likely go on sale some time in 2013.
Advanced airbags are designed to recognize if children or small adults are seated on the car so that it can adjust the force of deployment. Earlier designs of airbags were found to injure and even kill small passengers. Most of the structure of the Huayra, particularly around the front seats, is built from strong, lightweight material called carbon titanium.
The body of the Huayra itself is made from carbon titanium. According to Pagani, the supercar is the lightest car in its class, at just 3,000 pounds. Its lightweight frame and 12-cylinder engine enables the car to go from zero to sixty miles per hour in just three and half seconds. The car was named after an ancient Andean wind god Aymara Huayra Tata.