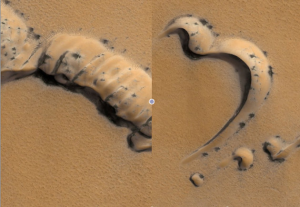 Strange black objects seen from 200 miles above the surface of Mars are generating interest and speculation that the unidentified objects could be anything from geysers to sunbathing colonies of microorganisms.
NPR presents several photos of the objects, including one taken by the Mars Reconnaissance Orbiter on Jan. 27, 2010, that appears to show "little black flecks dotting the ridges, mostly on the sunny side, like sunbathing spiders sitting in rows."
The objects were first spotted in 1998. Interestingly, they appear when the surface of Mars begins to warm, showing up in the same location most of the time. And then when the Martian winter approaches, they disappear with the same precise regularity. The images have been brought into greater detail by Michael Benson in his book "Planetfall: New Solar System Visions."
Most scientists, including teams from the U.S. Geological Survey, Hungary and the European Space Agency, have their own theories, but the leading explanation is that the objects are geysers of CO2 exploding from underneath the planet's surface. And while the geyser theory is the most popular explanation, it has yet to be verified.
In the meantime, there are some interesting alternative theories, including one from a group of Hungarian scientists, who have speculated that the objects are actually colonies of photosynthetic Martian microorganisms that emerge each year to sunbathe in the warm weather.
What could these spidery black objects on the Red Planet be? Are they truly geysers, or some other uncanny creature or structure? Feel free to share your speculations with us!
Source & Image: Yahoo News