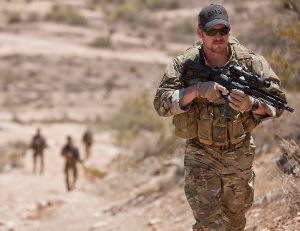 Eddie Ray Routh of Lancaster was arraigned early Sunday on two counts of capital murder in the deaths of Chris Kyle, 38, a former U.S. Navy SEAL credited with the largest number of confirmed kills, and Chad Littlefield, 35, at the shooting range about 50 miles southwest of Fort Worth, North Texas.
'Some type of mental illness'
Capt. Jason Upshaw with the Erath County Sheriff's Office said Routh used a semi-automatic handgun, which authorities later found at his home. Upshaw said ballistics tests weren't complete Sunday, but authorities believe the gun was used in the shootings. Upshaw declined to give any more details about the gun. Routh has not made any comments indicating what his motive may have been, Upshaw said.
Sheriff Tommy Bryant said Routh was unemployed and "may have been suffering from some type of mental illness from being in the military himself," but he didn't know if Routh was on any medication.
'Decorated veteran'
The U.S. military confirmed Sunday that Routh was a corporal in the Marines, serving in active duty from 2006 to 2010. He was deployed to Iraq in 2007 and Haiti in 2010. Kyle, a decorated veteran, wrote the best-selling book, "American Sniper: The Autobiography of the Most Lethal Sniper in U.S. Military History," detailing his 150-plus kills of insurgents from 1999 to 2009. Kyle said in his book that Iraqi insurgents had put a bounty on his head.
Bryant said the trio went to the shooting range around 3:15 p.m. Saturday. A hunting guide came across the bodies of Kyle and Littlefield around 5 p.m. and called 911. Upshaw said autopsies were still pending and he could not say how many times the men were shot or where on their bodies they were hit.
What do you think was the motive in the fatal shooting of Chris Kyle and Chad Littlefield? Feel free to speculate with us and type in your thoughts in the comment box below!
Source: Fox News
Image: Dallas News