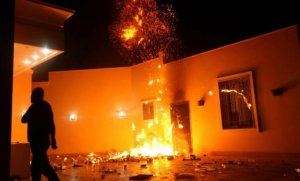 At least four career officials at the State Department and the Central Intelligence Agency have retained lawyers or are in the process of doing so, as they prepare to provide sensitive information about the Benghazi attacks to Congress, Fox News has learned.
'Threatened'
Victoria Toensing, a former Justice Department official and Republican counsel to the Senate Intelligence Committee, is now representing one of the State Department employees. She told Fox News her client and some of the others, who consider themselves whistle-blowers, have been threatened by unnamed Obama administration officials. Toensing declined to name her client.
However, Toensing disclosed that her client has pertinent information on all three time periods investigators consider relevant to the attacks: the months that led up to the attack, when pleas by the ambassador and his staff for enhanced security in Benghazi were mostly rejected by senior officers at the State Department; the eight-hour time frame in which the attacks unfolded, and the eight-day period that followed the attacks, when Obama administration officials incorrectly described them as the result of a spontaneous protest over a video.
'More than forthcoming'
Federal law provides explicit protections for federal government employees who are identified as "whistle-blowers." The laws aim to ensure these individuals will not face repercussions from their superiors, or from other quarters, in retaliation for their provision of information about corruption or other forms of wrongdoing to Congress, or to an agency's inspector-general.
The Obama administration maintains that it has been more than forthcoming on Benghazi and that it is time for the State Department to move on. At a recent hearing before the House Foreign Affairs Committee, Secretary of State John Kerry noted that administration officials have testified at eight hearings on Benghazi, provided 20 briefings on the subject and turned over to Congress some 25,000 documents related to the killings.
Is Victoria Toensing telling the truth? Do you think the Benghazi whistleblowers were indeed threatened?
Source: James Rosen, Fox News
Image: Pat Dollard