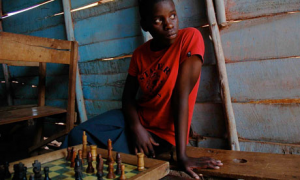 She grew up in one of the poorest spots on earth. She couldn't read or write. But a chance encounter with a chess coach turned her into a rising international chess star, the subject of a book — and the protagonist in a future Disney movie.
'First titled female Ugandan player'
Ugandan teenager Phiona Mutesi is "the ultimate underdog," her biographer, Tim Crother, says. Robert Katende, a missionary and refugee of Uganda's civil war, had started a chess program in Katwe. He offered a bowl of porridge to any child who would show up and learn. Mutesi liked chess, and started training and practicing regularly. She walked about four miles a day to practice — and to get that precious food. Soon she found herself beating the older girls and boys in the program.
Eventually, she became her country's champion — and represented Uganda at international tournaments. In 2009, she traveled to Sudan. Then, in 2010, she boarded an airplane to Siberia. Mutesi is not one of the world's top chess players. But she is the first titled female Ugandan player. Crothers' book about her, "The Queen of Katwe," was published this fall.
'Ticket out of a hard life'
"That she's from Africa makes her an underdog in the world. The fact that she's from Uganda makes her sort of an underdog in Africa, because it's one of the poorer countries in Africa. The fact that she's in Katwe makes her an underdog in Uganda because it's the most impoverished slum in the entire country. And then to be a girl in Katwe — girls are not treated as equals to the boys," said Crothers.
Chess could prove to be Mutesi's ticket out of a hard life — particularly through a project that lies ahead. Disney has optioned the rights to "The Queen of Katwe," and is starting work on a movie, Crothers said. Mutesi told CNN:
"I'm excited. I didn't have hope that one time, one day, I would be like someone who can encourage people, and they start playing chess."
Were you inspired by Phiona Mutesi's success story? Do you know of other "underdogs" who have gone through the same experience as Mutesi?
Source: CNN
Image: The Guardian