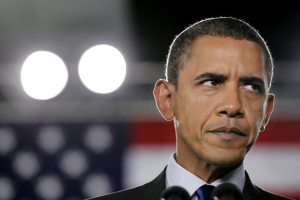 The Justice Department spied extensively on Fox News reporter James Rosen in 2010, collecting his telephone records, tracking his movements in and out of the State Department and seizing two days of Rosen's personal emails,the Washington Post reported on Monday.
'Breaking anti-espionage law'
In a chilling move sure to rile defenders of civil liberties, an FBI agent also accused Rosen of breaking anti-espionage law with behavior that—as described in the agent's own affidavit—falls well inside the bounds of traditional news reporting.
Fox News responds with a blistering statement that asserts Rosen was "simply doing his job" in his role as "a member of what up until now has always been a free press."
'Unconstitutional'
The revelations surfaced with President Barack Obama's administration already under fire for seizing two months of telephone records of reporters and editors at the Associated Press. Obama last week said he makes "no apologies" for investigations into national security-related leaks. The AP's CEO, Gray Pruitt, said Sunday that the seizure was "unconstitutional."
The case began when Rosen reported on June 11, 2009, that U.S. intelligence believed North Korea might respond to tighter United Nations sanctions with new nuclear tests. Rosen reported that the information came from CIA sources inside the hermetic Stalinist state. FBI agent Reginald Reyes wrote that there was evidence Rosen had broken the law, "at the very least, either as an aider, abettor and/or co-conspirator," the Post said.
Do you think James Rosen indeed broke the law in the course of his information research? Is spying on a reporter counted as an "unconstitutional" act?
Source: Olivier Knox, Yahoo News
Image: Daily Tech