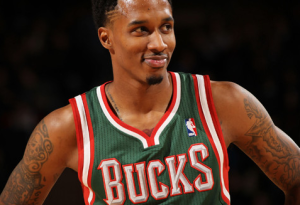 We've heard the talk that Brandon Jennings was unhappy with the Milwaukee Bucks and wouldn't commit to the team for the long term. Now we can change the conversation, as the guard has been moved to the Detroit Pistons in a sign-and-trade.
'Part of the package'
Yahoo! Sports' Adrian Wojnarowski has the details of the move:
"The Pistons will send Brandon Knight to the Bucks as part of the package for Jennings, league sources tell Y! Sports."

"Detroit will also send center Slava Kravtsov and forward Khris Middleton to Bucks as part of sign-and-trade for Jennings, sources tell Y!"

"The sign-and-trade for Jennings to the Pistons will be a three-year, $24 million deal, sources tell Y! Sports."
'He was unhappy'
Jennings' departure isn't all that surprising, as there were rumors he was unhappy during the 2012-13 season.  Well, maybe it was true after all.
In return for Jennings, the Bucks will be getting the 21-year-old Kentucky product Knight, who was the eighth overall pick in the 2011 pick.  He averaged 13.3 points, 4.0 assists and 3.3 rebounds last year, but gained infamy for being on the wrong end of a nasty alley-oop slam from DeAndre Jordan.
Is the sign-and-trade with the Pistons a wise move for Brandon Jennings? Feel free to discuss your thoughts with us!
Source: Timothy Rapp | Bleacher Report
Image: The League News