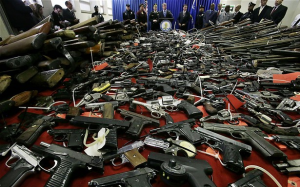 Arms manufacturers in at least two states with strict new gun laws are making good on their promise to move their operations — along with thousands of jobs and millions in tax revenues  – to locales they deem friendlier to the industry.
'New restriction on weapons'
Texas is making no secret of its desire to lure the gunmakers. This month, Gov. Rick Perry turned to Twitter to welcome PTR to move to the Lone Star state.
This month, Connecticut lawmakers approved a wide-ranging bill that includes new restriction on weapons and large capacity ammunition magazines. The new law adds more than 100 firearms to the state's assault weapons ban and creates what officials have called the nation's first dangerous weapon offender registry as well as eligibility rules for buying ammunition.
'All about bringing jobs'
The push to reform gun control laws accelerated after the Dec. 14 massacre of 20 children and six adults at an elementary school in Newtown, Conn. Although proposals for strict new federal laws have not gained traction, states have taken it upon themselves to crack down on arms.
Like Connecticut, the fight over tighter restrictions prompted several gun manufacturers in Colorado to threaten to leave. Grassroots Facebook pages have popped up — some, before the Colorado bills were even signed — encouraging Magpul to settle in places like Alabama, West Virginia or Alaska.
But no one has worked harder than Texas to make gun companies feel welcome. Lawmakers there have green-lighted a measure that would free up money to local and regional economic development agencies to offer incentives to gun manufacturers to relocate in the state. Perry says it's all about bringing jobs to his state.
Are you for or against stricter gun laws? Why or why not?
Source: Fox News
Image: The Telegraph