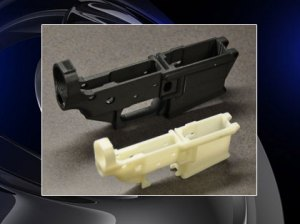 Welcome to the dark side of 3D printing. The hobby is best known for creating colorful toys and trinkets, but some enthusiasts are working on design files that would allow anyone to print a working gun. These don't exist yet, but some believe it's only a matter of time.
Why would a 3D-printed gun be appealing? For one, it could potentially be cheap. You can buy a preassembled 3D printer for about $500. A spool of ABS plastic to print with goes for $50. Depending on where you shop, you can buy .38 Special ammunition for 30 cents a round. The plans will undoubted be distributed free like so many MP3s.
In fact, plans for working gun parts already exist. They can be found on a site called Thingiverse and on similar sites, alongside thousands of free plans for toys, jewelry, tools, and design equipment. Thingiverse is a creation of Brooklyn, N.Y.-based MakerBot and its CEO, Bre Pettis. Pettis and his company have become the de facto faces of 3D printing thanks to regular appearances in mainstream and tech media talking about how 3D printers democratize manufacturing.
In June, Michael "HaveBlue" Guslick reported on his blogabout successfully test-firing a homemade gun whose key component, the lower receiver, he made from ABS plastic on a '90s-era Stratasys FDM 1600 3D printer.
The increased attention on printable guns comes as Defense Distributed is approaching a firing test, said Cody Wilson, a University of Texas graduate student and the chief spokesman for the group. Depending on the outcome of that testing, 3D-printing companies, file-hosting sites, and law enforcement and legislative groups may have to tackle a challenging set of questions regarding the manufacture and regulation of firearms, both in this country and abroad.
Is the 3D-printed gun a good idea for the whole of society? OR would it just pose an additional threat to everyone's safety? Feel free to comment on the pros and cons of this innovation!
Image: CBS Los Angeles