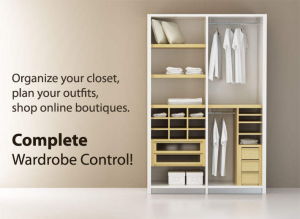 You can use your iPhone to "favorite" looks from a fashion show, so why not be able to do the same thing with your own closet?  Our online retailer of the week, TouchCloset, makes it happen.
Launched late last year, the mobile style app focuses on helping users organize what they already own, rather than search for and acquire new stuff.  Just snap a photo with your iPhone camera, or upload an image from an album.  Next, tag it with various information — category, color, name, and brand. Once you have all that information in, just start creating and naming outfits.
You can also use the app to, say, pick out clothes to pack for a trip — which means, theoretically, you can start getting organized for a vacation from your office desk. Meanwhile, a "shop" feature allows users to browse retailers and add items to a wish list, though the e-commerce side certainly takes a back seat to the app's management tools.
The program also lets you easily flip through all your saved items, the way an iPod scrolls through album covers.  When out shopping, that particular aspect could come in handy — you'll never accidentally buy a repeat item again.  The only downside to the app, we think, is that it's a hefty $9.99.  However, that only emphasizes TouchCloset's role as a unique personal organizer and not a vehicle for e-commerce.
While Cher's 90s-era closet might still be a pipe dream, ten bucks seems like a small price to pay to have a pictorial catalog of all your clothes at your fingertips.
Source: The High Low
Image: Touch Closet