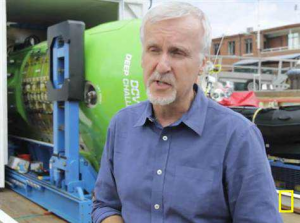 Hollywood director James Cameron has returned to the surface after plunging nearly 11km (seven miles) down to the deepest place in the ocean, the Mariana Trench in the western Pacific.
He made the solo descent in a submarine called "Deepsea Challenger", taking over two hours to reach the bottom. He spent more than three hours exploring the ocean floor, before a speedy ascent back to the surface. His craft was kitted out with cameras and lights so he could film the deep.
This is only the second manned expedition to the ocean's deepest depths – the first took place in 1960. The earlier descent was made by US Navy Lt Don Walsh and Swiss oceanographer Jacques Piccard. They spent about 20 minutes on the ocean floor but their landing kicked up silt, meaning their view was obscured.
The sub has so many lights and cameras that it is like an underwater TV studio – with Mr Cameron able to direct and film the action from within. He intends to release a documentary. It also has robotic arms, allowing him to collect samples of rocks and soils, and a team of researchers are working alongside the director to identify any new species. He says that science is key to his mission.
Google's Eric Schmidt has helped to finance another sub being built by a US marine technology company called Doer Marine. They want this sub to carry two to three people, and are placing a heavy emphasis on science. And Triton submarines, a Florida-based submersible company, intends to build a sub with a giant glass sphere at its centrepiece to take tourists down to the deepest ocean for $250,000 a ticket.
Source: BBC News
Image: MSN