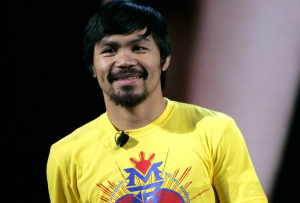 Manny Pacquiao has become embroiled in a bizarre lawsuit amid claims that his foundation failed to pay shipping charges on a consignment that was seized by customs authorities in his native Philippines.
The Manny Pacquiao Foundation, which the pound-for-pound boxing king uses to support his favorite charities, tried to import a shipment of "relief goods" from the United States to the Philippines using an unnamed logistics company in 2009. According to TMZ, when customs officials found the containers to be holding used clothes – which do not qualify as "relief goods" under Filipino law and are subject to excise duties – the shipment was impounded.
As a result of the load not being delivered to its destination, it is claimed, the foundation refused to pay its bill with the shipper. However, all major logistics companies, such as FedEx and UPS, include a clause in every contract that insists on full payment, even if a package is not delivered due to customs irregularities. The foundation is being sued for the full shipping charge of $35,806.36, plus interest, while the containers continue to sit undistributed in a Filipino port.
The lawsuit is the latest is a series of high-profile controversies surrounding Pacquiao, whose reputation in his homeland has taken a considerable hit in recent years. Pacquiao drew criticism over his attendance record in congress and was forced to respond to a contempt claim brought by Filipino tax authorities. He also resorted to legal action following allegations he had housed a fugitive former politician at his home. In a column in the Minda News publication, journalist Edwin Espejo suggested the unpaid shipping bill could be traced to unscrupulous members of the foundation.
Pacquiao's camp and the Manny Pacquiao Foundation could not be reached for comment. However, swift changes to the structure of his foundation were implemented this week to offset some of the damaging publicity brought by the lawsuit.
Source: Yahoo News
Image: Bleacher Report