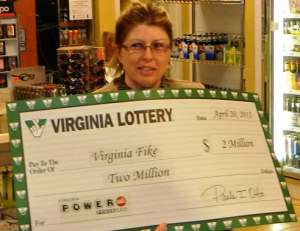 Winning the lottery once in a lifetime is pretty lucky. Winning the lottery twice in the same day? Virginia Pike is one of the few people that can describe that feeling.
The Berryville, Va., resident had two tickets that matched five of the six Powerball numbers in an April 7 drawing so that each ticket was worth $1 million. In early April, Fike stopped at an Olde Stone Truck Stop in Virginia with her numbers ready and purchased two tickets.
"I picked numbers based on my parents' anniversary and their ages at that time, divided by the year they were married," Fike said in the release. "I just love the jackpot games and I play when I can afford it."
The jackpot that week was at $80 million. In order to win the jackpot, the ticket holder has to match the five numbers and the sixth Powerball number. After the drawing, it was announced that no one had won the jackpot, but 14 people nationwide had matched five of the numbers and were entitled to $1 million prizes each. Two of the winning tickets were in Virginia. Per Virginia state lottery rules, winners split the jackpot, regardless of how many there are, but non-jackpot prizes from matching part of the winning sequence are not split and can be won multiple times.
Pike was presented with a check for $2 million on Friday at the truck stop where she purchased the ticket. Winners in Virginia are required to come forward and be identified. She will receive $1.4 million after taxes. The store also received a $200,000 bonus for selling the two winning tickets.
What would you do if you were to win $2 million? Share your thoughts with us!
Source: Yahoo News
Image: Sky News