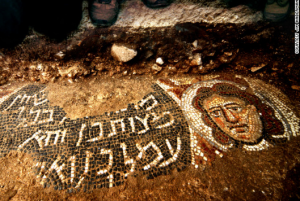 A glittering mosaic of colored stones once decorated an ancient synagogue floor with scenes of the Biblical hero Samson getting revenge on the Philistines.
This newly excavated discovery in the ancient Jewish village of Huqoq not only depicts an unusual scene — Samson tying torches to foxes' tails in order to burn his enemies' crops — it's also remarkably high-quality, said dig archaeologist Jodi Magness of the University of North Carolina, Chapel Hill. The mosaic decorates part of a synagogue dating back to about A.D. 400 to 500. The building appears to be made of large, "beautifully cut" blocks of stone, Magness said, suggesting an expansive structure.
The mosaic, which is incomplete, depicts several scenes. In one, two female faces flank a Hebrew inscription about rewards for people who perform good deeds. In the other, Samson, of the biblical story Samson and Delilah, ties torches to pairs of foxes, an event described in the Book of Judges in both the Christian and Hebrew Bibles. It's this scene that is depicted in the mosaic. It's an "unusual" subject, Magness said, because only two other synagogues have been found that depict Samson at all, much less a fiery scene of revenge. But one of the other ancient synagogues that does depict Samson is only a few miles from the newly excavated building, Magness said.
The archaeologists uncovered the mosaic last week. A student on his first dig was carefully scraping away at the dirt with a hoe when he felt the hard surface of the mosaic. He called Magness over, and they carefully excavated, brushing away dirt to reveal a colorful female face staring back at them, exposed to the light of day for the first time in 1,500 years.
Do you know the story of this Biblical character Samson? Why do you think he was unusually popular in the area where the ancient mosaic was found?
Image: Mere News