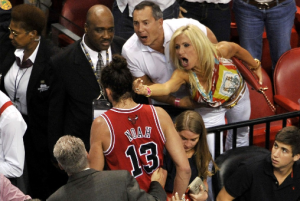 Joakim Noah earned an ejection, both teams piled up nine technical fouls, and the Chicago Bulls lost to the Miami Heat by the largest margin in franchise playoff history. However, the enduring image from a memorable game may end up being the one-finger salute Noah received from an orange-tinged Real Housewife of Miami lookalike as he headed up the tunnel.
'Good sport'
The woman has been identified, and she's got a back story worth sharing. According to the Florida Sun-Sentinel, the woman's name is Filomena Tobias, "a widow of former CNBC commentator and financial wizard Seth Tobias," according to Tobias' daughter Victoria.
Victoria also noted that her mother is "embarrassed, but she is being a good sport," which is pretty ironic considering her actions at the game. Filomena apparently has no further comment on her 15 minutes of fame, which is a shame because she's obviously a national treasure.
'Classless gesture'
Since the incident, some chilling details about Filomena's relationship with the late Seth Tobias have surfaced, specifically her potential involvement with his untimely death. Also of note is that the widow has had three other marriages—all of which had storylines fit for reality TV.
The classless gesture put a cap on a game that was more about bravado than buckets, as both clubs took offense to the slightest contact and the Bulls eventually lost their cool.
Noah's ejection, which he later admitted was warranted, led to a fan response that was anything but. And for what it's worth, the Bulls' emotional center evinced a surprising calm in his postgame press conference, clearly having come down from the adrenaline rush that culminated in his early exit.
What is your verdict for Filomena Tobias' dirty salute for Joakim Noah — classless or well-deserved? Feel free to share your opinions with us via the comment box below!
Source: Grant Hughes, Bleacher Report
Image: USA Today Sports