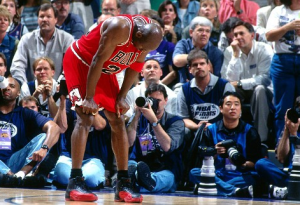 When Michael Jordan torched the Utah Jazz in Game 5 of the 1997 NBA Finals, he apparently wasn't suffering from the flu at all.
'Deliver under such physical duress'
With the series tied 2-2, Jordan put up 38 points, seven rebounds and five assists, leading the Chicago Bulls to victory and paving the way for him to procure his fifth championship ring. That game.  His ability to deliver under such physical duress was awe-inspiring.
As it turns out, though, Jordan's legendary display might not have come while he was dogged by the flu, or even the common cold. According to his trainer, Tim Grover, it came while he was persevering through the ill effects of some bad pizza (via Henry Abbott of ESPN.com):
We were in Park City, Utah, up in a hotel. Room service stopped at like nine o'clock. He got hungry and we really couldn't find any other place to eat…

So we order pizza. Five guys came to deliver this pizza. I take the pizza and I tell them: "I've got a bad feeling about this. … I've just got a bad feeling about this."



'Food poisoning'
Out of everybody in the room, [MJ] was the only one who ate. Nobody else had it. And then 2 o'clock in the morning I get a call to my room. Come to the room. He's curled up in the fetal position. We're looking at him, finding the team physician at that time.

Immediately I told him it's food poisoning. Not the flu.
There you have it. Jordan and the Bulls' championship aspirations might not have been thwarted by his own immune system, but by some spoiled cheese or a moldy crust.
Why do you think the truth about Michael Jordan's flu game came out only today? And the bigger question is — Whodunnit?
Source: Dan Favale, Bleacher Report
Image: The Smoking Section