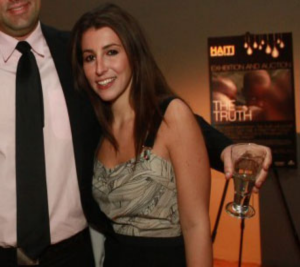 If we're being completely honest, Lauren Silberman's odds of making a NFL team as its kicker are pretty much nonexistent. However, the long-shot nature of her bid isn't stopping the 28-year-old New Yorker from becoming the first woman in history to register for an NFL regional scouting combine.
'Club soccer player'
Silberman will compete alongside college kickers in New Jersey on March 2 and 3 for the right to advance to a Dallas super-regional combine in April.
Silberman doesn't have any recent football kicking duties on her résumé. She was a club soccer player at the University of Wisconsin and attended MIT where she wrote a thesis on how athletes use video games to improve their performance. (Former Badgers and Minnesota Vikings defensive lineman Erasmus James was a participant in her study.)
'First female registrant'
From NFL.com:

"I was not aware that I was the first female registrant," Silberman told NFL.com on Tuesday. "I was actually hoping that the 2012 historical milestone rule, to allow women to play, would prompt more women to attend tryouts this year. But for me, what's important is to finally have a chance to fulfill my dreams by trying out to play in the world's most competitive football league…"
So, yeah, it sounds like Silberman is realistic about her chances. But it also sounds like she's eager to break down a wall and pave the way for a female kicker who might make a team in the future. Best of luck to her.
Do you think after Lauren Silberman, more women will be encouraged to try out for the NFL? Can she make it to the final cut?
Source: Kevin Kaduk, Yahoo Sports
Image: Fan IQ