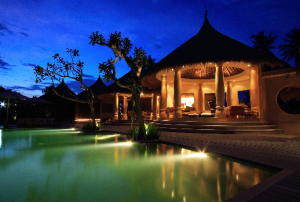 Ziimeo is proud to announce that this December, we have an exciting offer for the adventurous souls! Because we want to reward our loyal members for their regular content contributions to our site, Ziimeo.com has launched a competition exclusive to its community members only!
'Free accommodation'
We would like to present the search for the Best/Most Popular exclusive Travel Holiday Video! If you are a Ziimeo community member, you are automatically eligible to join this contest. You just have to submit a video featuring an exciting, funny, adventurous, romantic or exotic holiday travel event, within the promotional period. The said video must only be 3 to 5 minutes in duration. If you are not yet a member and you want to join, don't worry. Becoming a member is very easy. Just create a free account from Ziimeo's home page at http://ziimeo.com/.
The very lucky winner of this contest will win a FREE accommodation for seven (7) nights for four (4) adults at luxury beachfront Villa Pantai, Candi Dasa, Bali, Indonesia! In addition to that, the winner will also receive US $1,000 spending money, which can be valued at up to US $3,520 depending on the dates and availability.
'Luxurious vacation'
Villa Pantai Bali is a 4-star private beachfront villa located right in the heart of the popular resort village of Candi Dasa, East Bali. It is fully staffed and can accommodate up to 4 persons (or 2 couples). With its understated luxurious décor and appointments, breathtaking views, competent staff, and exotic setting, those who will be lucky enough to spend even a day here will really have a wonderful holiday experience. Aren't all these a pricey catch when you get them for FREE?
The entry with the most "Likes" will be declared as the winner of the competition. This promo is still ongoing and submission of entries will end at 11:59 PM AEST on December 14, 2012. The winner of the contest will be published on December 19, 2012. For more information about this contest, feel free to go through Ziimeo's Competition page at http://competitions.ziimeo.com/.
Hurry! Time is ticking and the slots are filling up. Take a shot at Ziimeo's Best/Most Popular Holiday Travel Video Contest! You could very well be spending your next vacation at Villa Pantai! Good luck, everyone! Happy Holidays!
Image: Go Bali Vacation