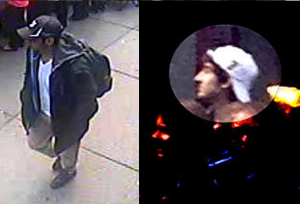 After three days of poring over photos and video, investigators appealed to the public to help them identify two men now considered suspects in the Boston Marathon bombings. The men were photographed walking down Boylston Street, one behind the other, near the finish line of Monday's race.
'Somebody out there knows these individuals'
Suspect 1 was seen wearing a light-colored, collarless shirt underneath a dark-colored jacket and wearing a dark baseball cap. The man identified as Suspect 2 was seen setting down a backpack at the site of the second explosion "within minutes" of the blasts that killed three people and wounded nearly 180, said Special Agent Rick DesLauriers, the head of the FBI's Boston office. He was wearing a light-colored hooded sweatshirt, a black jacket and a white baseball cap turned backward.
In particular, DesLauriers asked for help from anyone standing in front of the Forum restaurant, where the second bombing happened.
"Somebody out there knows these individuals as friends, neighbors, co-workers or family members of the suspects," DesLauriers said. "And though it may be difficult, the nation is counting on those with information to come forward and provide it to us."
'Watch the carnage unfold'
People with possible information on the two men were urged to go to the FBI's website, https://bostonmarathontips.fbi.gov, or call 800-CALL-FBI (800-225-5324). By Thursday evening, authorities already had received a "large volume of calls … as a result of the photos," an FBI official said. The FBI's website, moreover, had been inundated with record traffic.
It wasn't immediately known then whether any of the tips had led to the suspects. DesLauriers cautioned that anyone who think they know their identities should be careful, and consider them armed and "extremely dangerous."
Other footage, still unreleased, shows that the two suspects stayed at the scene to watch the carnage unfold, a federal law enforcement official with knowledge of the investigation told CNN's Susan Candiotti.
What do you think was the motive behind this act of terror? Do you think the authorities will be able to catch these suspects soon?
Source: Matt Smith and Thom Patterson, CNN
Image: The Guardian