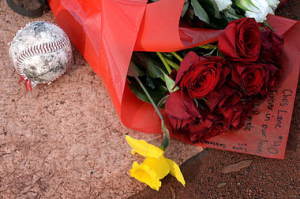 In the wake of the senseless shooting of Australian baseball player Christopher Lane, people are now forced to contemplate this generation's capacity for violence.
'Violent generation'
The three Oklahoma teenagers who killed Lane admitted to the police that they shot Lane out of boredom. The darkness of the soul of those cold-blooded youngsters that killed a promising athlete is indeed unfathomable. What have we now become — a violent generation?
Right now, we live in a world that worships violence. Just take a look at the most popular movies, the scream-your-lungs-out songs, and even the most "exciting" video games that we play. The more we expose ourselves and our kids to these sources of violence, the more they become insensitive to the value of life, and the easier they find it to pull the trigger and end a person's life.
'Values'
Where are the parents of those three Oklahoma teenagers charged with the murder of Christopher Lane? Where are the parents of other lost children who spend most of their waking time in front of violent video games and fantasize about shooting someone in real life instead of just inside the realms of a game? What sort of values are ingrained in the minds and heart of these kids? Or most importantly, are there still ANY values being taught to them?
The parents of today's generation put so much responsibility of child rearing on the shoulders of the government, babysitters, and teachers that most of them fail to perform their own responsibilities well. We have become lost in being so liberated that we have forgotten to teach our kids to fear God and bestow love upon mankind. Many have already turned their back on God and lost track of what is right and what is wrong. Now, look where this so-called "liberation" has gotten us.
Can all the violence and hate still be undone? Do you still teach your kids about morality and fear in God? Are we at fault for all the senseless crimes that abound?