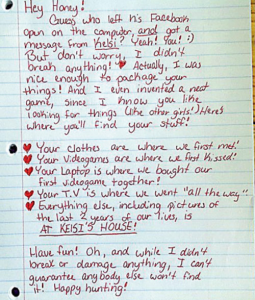 What's scarier than a really nasty break-up note? A really nice break-up note. You better watch your back if you get caught cheating and then receive a Dear John letter that opens: "Hey Honey!"
'Love or blood?'
On Friday, a Redditor posted a photograph of one such letter, and it's since gone viral, having received more than 1 million page views as of Monday morning.
So far, no one has been able to prove the veracity of the missive, but it's dripping with realistic-sounding acid under a candy-sweet veneer of hearts and smiley emoticons. And is that red pen supposed to be the color of love or blood?
'Happy hunting'
"Guess who left his Facebook open on the computer and got a message from Kelsi? Yeah! You did!" The writer goes on to say she's made a superfun game out of ditching his belongings—"since I know you like looking for other things, (like other girls!)— and provides clues to where the philanderer might find his stuff. She adds, "Oh, and while I didn't break or damage anything, I can't guarantee anybody else won't find it." It closes, "Happy Hunting!"
What do you think of this break-up letter — creative or downright scary? Would you do this to dump a cheating lover?
Source: Sarah B. Weir, Yahoo News
Image: Mid Day