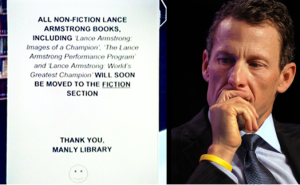 An Australian library sign promising to reshelve books by disgraced cyclist Lance Armstrong in the fiction section has sparked approval online. The sign was posted in Manly library in Sydney over the weekend.
'Arbitrarily reclassify books'
All non-fiction books by the cyclist, including "Lance Armstrong: Images of a Champion", would soon be moved to the fiction section, it read.
A council spokesman said the sign was a joke and that local libraries could not arbitrarily reclassify books.
Last week Lance Armstrong ended years of denial by admitting he used performance-enhancing drugs during all seven of his Tour de France wins. The 41-year-old confessed during an interview with chat show host Oprah Winfrey that was watched around the world.
'Prank'
"This was a prank, it happened on Saturday and a member of the public has taken a photo and posted it on social media and it's gone viral on social media," said Chris Parsons of Manly Council. "However you can't simple reclassify books from fiction to non-fiction," he said, explaining that classifications were decided at a central level.
Local reports said the sign was posted by a student working part-time in the library. Mr Parsons did not confirm this but said a "little review" would take place at the library.
What do you think of this Lance Armstrong prank by Manly Library — funny or offensive? Share your thoughts about this issue!
Source: BBC News
Image: Litre Actor