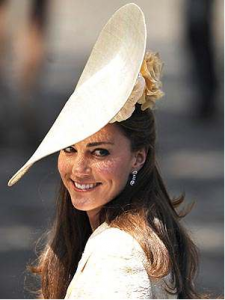 One young designer is going to get his or her kicks outfitting the Duchess of Cambridge in new shoes.
Six students from the footwear design program at De Montfort University in Leicester, England, have submitted designs to Kate – who will select which pair of shoes she likes best when she visits the university on March 8. The visit kicks off a tour around the U.K. by Kate's grandmother-in-law, Queen Elizabeth, to mark her 60 years on the throne.
Among the shortlisted designers – Sam Sawkill, 27, Summer Spencer, 23, Kay Yeng Cheng, 22, Tabitha Duffield, Becka Hunt, 20, and Mei Chun Lai, 21 – aesthetics were important.
Summer Spencer was inspired by Kate and husband William's coat of arms, with its tartan reflecting the couple's time in college in Scotland, while Tabitha Duffield used daisies and pink leather in her design. Becka Hunt said she was inspired by 19th-century fashions, as well as Kate's engagement ring and overall style.
During the visit, the Queen and Kate will also watch four university graduates showcase their collections. Two of the graduates have internships at Vivienne Westwood. The Queen, her husband, the Duke of Edinburgh, and Kate will arrive in the city by train. They will also be attending a service at the city's cathedral and visiting local faith leaders. Later this week, Kate will join the Queen and Camilla, Duchess of Cornwall, at a tea party at Fortnum and Mason's in London.
Source: People Magazine
Image: A Chic Direction