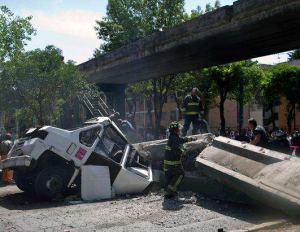 A strong earthquake damaged hundreds of homes in southern Mexico Tuesday and rattled residents hundreds of miles away in the nation's capital.
The quake had a magnitude of 7.4, according to the U.S. Geological Survey, and its epicenter was about 15 miles (25 kilometers) east of Ometepec, Guerrero. At least 500 homes in the southern coastal state were damaged, Gov. Angel Aguirre told reporters.
The temblor injured at least 11 people, Mexican Interior Minister Alejandro Poire told reporters. Guerrero residents felt aftershocks hours after the quake, which the USGS said had a depth of about 12.4 miles (20 km). Officials reported that at least 800 houses had collapsed in the town of Igualapa, the Guerrero state government said in a statement. Later Tuesday, the head of Guerrero's civil protection department said officials had confirmed 200 damaged homes in the town. That number could increase when assessments of the area continue Wednesday, he said.
Earthquakes are a frightening experience for the more than 20 million residents who live in the sprawling metropolis, where about 10,000 people perished after a massive quake in 1985. The city, built on volcanic ash and clay, is particularly vulnerable to temblors.
A spokeswoman told reporters that U.S. President Barack Obama's eldest daughter, who was on a spring trip with classmates in Mexico about 100 miles away from the quake's epicenter, was not injured.
Source: CNN
Image: ABC News