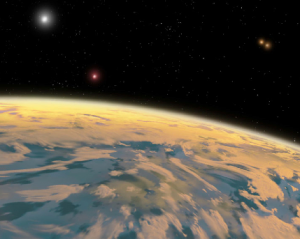 Astronomers have found a planet whose skies are illuminated by four different suns – the first known of its type. The discovery was made by volunteers using the Planethunters.org website along with a team from UK and US institutes; follow-up observations were made with the Keck Observatory.
'Binary stars'
The planet, located just under 5,000 light-years away, has been named PH1 after the Planet Hunters site. It is thought to be a "gas giant" slightly larger than Neptune but more than six times the size of the Earth.
Binary stars – systems with pairs of stars – are not uncommon. But only a handful of known exoplanets (planets that circle other stars) have been found to orbit such binaries. And none of these are known to have another pair of stars circling them.
'Human pattern recognition'
PH1 was discovered by two US volunteers using the Planethunters.org website: Kian Jek of San Francisco and Robert Gagliano from Cottonwood, Arizona. They spotted faint dips in light caused by the planet passing in front of its parent stars. The team of professional astronomers then confirmed the discovery using the Keck telescopes on Mauna Kea, Hawaii.
Founded in 2010, Planethunters.org aims to harness human pattern recognition to identify transits in publicly available data gathered by Nasa's Kepler Space Telescope. Kepler was launched in March 2009 to search for Earth-like planets orbiting other stars.
Do you think there are other planet out there with multiple suns? Feel free to share your speculations and opinions about this new discovery with us!
Source: BBC News
Image: iO9