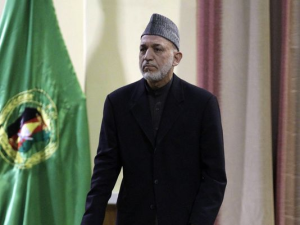 Afghanistan's president ordered all U.S. special forces to leave a strategically important eastern province within two weeks because of allegations that Afghans working with them are torturing and abusing other Afghans.
'Bloody reminder'
Suicide bombers targeted Afghanistan's intelligence agency and other security forces in four coordinated attacks in the heart of Kabul and outlying areas in a bloody reminder of the insurgency's reach nearly 12 years into the war.
Presidential spokesman Aimal Faizi said the decision to order the American special forces to leave Wardak province was taken during a meeting of the National Security Council because of the alleged actions of Afghans who are considered linked to the U.S. special forces. He said all special forces operations were to cease immediately in the restive province next to Kabul, which is viewed as a gateway to the capital and has been the focus of counterinsurgency efforts in recent years.
'Murdering innocent people'
The Taliban have staged numerous attacks against U.S.-led coalition forces in the province. In August 2011, insurgents shot down a Chinook helicopter, killing 30 American troops, mostly elite Navy SEALs, in Wardak. The crash was the single deadliest loss for U.S. forces in the war. Afghan forces have taken the lead in many such special operations, especially so-called night raids.
A statement the security council issued in English said the armed individuals have allegedly been "harassing, annoying, torturing and even murdering innocent people." Ceasing all such operations could have a negative impact on the coalition's campaign to go after Taliban leaders and commanders, who are usually the target of such operations.
The brazen assaults, which occurred within a three-hour timespan, were the latest to strike Afghan forces, who have suffered higher casualties this year as U.S. and other foreign troops gradually take a back seat and shift responsibility for security to the government.
Do you think making the U.S. special forces leave Wardak is a good idea? Feel free to discuss the possible outcomes of this situation!
Source: Patrick Quinn, Associated Press, Yahoo News
Image: USA Today