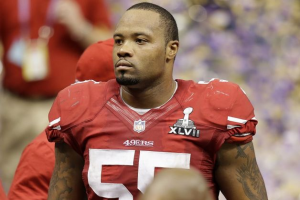 San Francisco 49ers linebacker Ahmad Brooks allegedly had a warrant out for his arrest on assault charges following an incident with teammate Lamar Divens, but Brooks reportedly is off the hook.  
'Too intoxicated'
Tracey Kaplan of the San Jose Mercury News outlines the specifics of the situation that led to the confrontation:
According to the application for Brooks' arrest, the incident unfolded after Brooks, Divens and other 49er players spent the evening of June 7 at different players' houses. Eventually they decided to go to downtown San Jose and keep drinking.

The unidentified witness said Brooks was too intoxicated to drive home, so Divens drove. When they got to Brooks' house about 2 a.m. on June 8, Brooks asked for his keys. Divens pretended to chuck them onto the grass and then started to hand them to him.

Brooks then allegedly clocked Divens in the head with a beer bottle. Brooks allegedly began cursing and then struck him in the head again. Brooks allegedly asked Divens, "Do I need to get my (expletive deleted) gun?" and struck him again. Prosecutors also allege in the warrant that Brooks punched Divens.
'Drop it'
The attack required Divens to get three stitches, and he initially wanted to press charges. However, the warrant application states that he has since changed his mind. When a San Jose police sergeant called Divens three days after the incident occurred, he said he wanted to drop it.
The 49ers are rather deep at linebacker with the likes of 2012 All-Pros Patrick Willis, NaVorro Bowman and Aldon Smith. However, Brooks is still a key part to the team and broke up a critical pass that helped San Francisco to the Super Bowl in a 28-24 road victory over the Atlanta Falcons in the NFC Championship Game.
What do you make of this alleged assault case involving Ahmad Brooks? Was it worth dropping or pursuing?
Source: Matt Fitzgerald | Bleacher Report
Image: San Francisco Chronicle