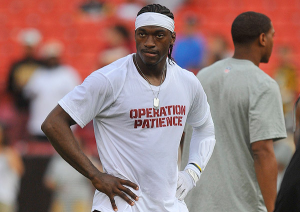 Washington Redskins star quarterback Robert Griffin III hasn't been able to take a single snap yet this season, but he has already reportedly earned himself a $10,000 fine.
'Apparel violation'
The NFL has not officially fined the second-year quarterback, but the Washington Post's Mark Maske reports he will be punished for an "apparel violation": As Maske notes, players are only authorized to wear certain apparel during game days when "they are visible to the stadium and television audiences."
It's still unclear as to how RGIII exactly broke the rule, but he was spotted wearing an "Operation Patience" shirt while warming up before Monday night's game with the Pittsburgh Steelers. "Operation Patience" is the term that the young quarterback has coined and taken on during his comeback from knee surgery back in January.
'Not trademarked'
This will mark the second time he has been hit with the exact same punishment, as the league, which only authorizes Nike apparel, hit him with another $10,000 fine for wearing Adidas apparel to a postgame press conference last December.
According to ESPN's Darren Rovell, the "Operation Patience" shirt is not trademarked by Adidas, the company that endorses Griffin.
Do you think NFL will catch RGIII again with another apparel violation? By the way, what do you think of his "Operation Patience" shirt? Feel free to share your thoughts and opinions with us via the comment box below!
Source: Tim Keeney | Bleacher Report
Image: Sports Illustrated