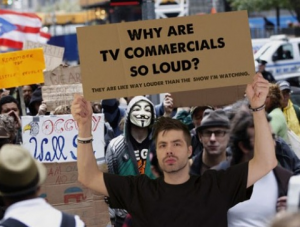 Beginning Thursday, the Federal Communications Commission is barring broadcasters and pay TV providers from airing excessively loud commercials, saying ads must maintain the "same average volume" as the programs they accompany.
'CALM Act'
The move — which undoubtedly will make many TV viewers happier, and save countless marriages — addresses a problem that, regulators say, is almost as old as television itself. Loud commercials have been a leading source of complaints to the FCC since its consumer call center began reporting top complaints in 2002.
Congress mandated the change in the aptly named Commercial Advertisement Loudness Mitigation, or CALM, Act in 2010. Last year, the FCC set a December 13, 2012, deadline for full compliance. The CALM Act bill had wide bipartisan support, passing the Senate unanimously and the House by a voice vote.
'Full implementation'
Bill supporters Rep. Anna Eshoo, D-California, and Sen. Sheldon Whitehouse, D-Rhode Island, and industry representatives plan an event in Washington on Thursday to mark the full implementation of the law.
The FCC says it has granted two temporary waivers to the law: one to South Georgia Governmental Services Authority, a municipal cable system, because of financial hardship; and to WPFO in Waterville, Maine, which asked for a grant because it is relocating its facilities. Non-commercial television stations are exempt from the act. Political ads, however, must comply.
Are you in favor of the Commercial Advertisement Loudness Mitigation (CALM) Act bill? What are your other woes regarding commercials? Feel free to share your opinion with us through the comment box below!
Source: Mike M. Ahlers, CNN
Image: Albany 2 Cents