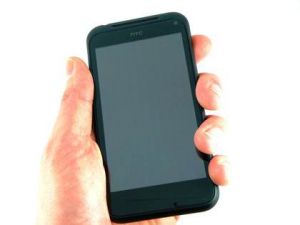 Once high-flying Android manufacturer HTC reported weak fourth quarter results and forecast an even tougher first quarter as competition from Apple and Samsung squeezed the Taiwanese smartphone maker.
In the first quarter, HTC said it was expecting revenue of between 65 billion and 70 billion Taiwanese dollars or $2.20-2.37 billion, which could amount to as much as a 36 percent drop from the previous quarter. Analysts had expected HTC to generate $89.64 billion or $3.04 billion in revenue this quarter. HTC said the disappointing forecast stemmed from its transition to newer products, which will be previewed at the Mobile World Congress. It called the slow down "temporary."
The company has been talking about putting out fewer phones and rallying around more "hero" devices. HTC rode the wave behind Android and enjoyed a lot of growth along with the rest of the smartphone market. But as Samsung began cranking on Android phones, Apple exploded last quarter with an impressive showing on iPhone sales and low-end Chinese makers ZTE and Huawei came on strong, it has left HTC with less room to stand out.
HTC will hope that the HTC Ville, a 4.3-inch inch Android 4.0 device, and other upcoming devices can help lead a turnaround. But it's unclear what will provide the real spark. The HTC Rezound was one of the top Android devices this fall from HTC but it got overshadowed by the Galaxy Nexus from Samsung and the Motorola Razr.
Source: Digg
Image: Tech Radar