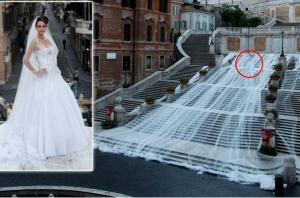 If a bride really wants to turn heads, nothing could possibly top wearing Gianni Molaro's latest wedding gown. The Italian designer's silk and tulle dress features a train that's nearly two miles long!
The record-breaking style was displayed this week cascading down the steps of the Trinita dei Monti Renaissance church in Rome, Italy, to celebrate the opening of Molaro's new design studio. According to the Daily Mail, the sheer gauzy train, made of 1.86 miles of tulle and six miles of silk , was worn by Elena De Angelis last September for her wedding to Ferdinand Pucci in Casal di Princice in Naples.
It took dozens of seamstresses months to create, and required 600 volunteers to keep it off the ground as De Angelis drove to the church in a vintage car. We imagine that was quite a sight for her 20,000 guests and thousands of onlookers. This bridal train now ties for the world's longest–Andree Salon, a Bucharest fashion label, debuted an equally long style flowing down from a hot air balloon earlier this year.
"I was really grateful to be asked to design this veil," Molaro told the Sun last year. "I met tens of thousands of people on the way to the church who complimented my idea. I wanted this veil to symbolize peace and hope and I think we have achieved this. This has been one of the biggest moments in my career as a designer." We believe it was also one of the longest moments.
On your wedding day, would you want to wear a bridal train this long? Tell us if you think Molaro's designs are hip or not!
Source: Yahoo News
Image: Daily Mail