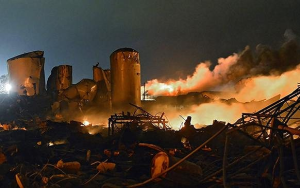 Some 35 people — including 10 first responders — died in a massive explosion Wednesday night at a fertilizer plant in West, Texas, Mayor Tommy Muska said, according to USA Today. More than 160 people were injured.
'Very volatile'
The area around the site of the massive explosion at a fertilizer plant that flattened much of the small Texas town remains "very volatile" due to the presence of ammonium nitrate, McLennan County Chief Deputy Sheriff Matt Cawthon said Thursday. Authorities searched through mounds of rubble in hopes of finding survivors of the blast that left shattered homes and wreckage in a wide swath of the town, which has only 2,800 people.
On Wednesday evening, a fire at the plant suddenly exploded with a huge, deafening bang, throwing people to the ground blocks away. About half the town was evacuated, including the nursing home with 133 residents. The explosion tore through the roof of West Fertilizer Co., charring much of the structure and sending massive flames into the air, followed by a plume of smoke bigger than the plant itself. A deafening boom echoed for miles. The blast stripped the apartment complex, with 50 units, of its walls and windows. Between 50 and 60 homes in a five-block area sustained damage, officials said.
'No chemical escape'
As of Thursday afternoon, authorities had not determined what led to the deadly explosion. Waco Police Sgt. William Patrick Swanton said earlier there were no indications of criminal activity but that wasn't being ruled out yet.
With help from heavy rains early Thursday, firefighters managed to quell most of the flames in the area, authorities said. The rain and heavy winds also helped dissipate chemicals that may have been released. Swanton emphasized that there was no cause for alarm about the air. There was no "chemical escape" that is "out of control," he said.
What do you think caused this massive explosion? Was it an accident or could it have been intentional?
Source: Josh Levs and Lateef Mungin, CNN
Image: The Australian