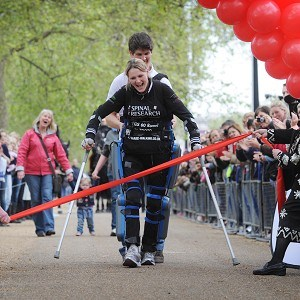 For five years, Claire Lomas hasn't been able to walk, hasn't been able to feel her legs. But that hasn't stopped her.
She was once a professional horse rider, her blond hair flowing underneath her white riding cap. But in 2007, a freak accident paralyzed her from the chest down. She spent all her time in a wheelchair, at least until January. That's when she started walking again, thanks to a $75,000 bionic suit.
Each time she steps forward, her suit hisses a sound not dissimilar to Robocop. The ReWalk and two canes support her, and the suit senses when she wants to walk and shifts her weight for her. But it's not easy. Each day, when she started, she could take only 30 steps. Every moment was a chore, and because she couldn't feel where she standing, she always feared falling over. But that didn't stop her, either. Loman set out to walk 55,000 steps – or 26.2 miles. She set out to run the London Marathon.
She started, alongside 35,000 runners, 16 days ago. Today, in the shadow of Buckingham Palace, she finished — to the screams of thousands of fans who came out to support her. Thanks to all her fans, Loman raised more than $100,000 for spinal cord research.
Today is not the most important day of Lomas' life. It's not even the most important day since the accident. In the last three years, Claire Lomas has gotten married and given birth to a healthy baby girl. Mazie is 15 months old, and was right there as Lomas crossed the finish line. And her husband Dan was there every step of the way, helping support the suit – and her.
How has Claire Lomas' story inspired you today? Share your learnings with us!
Source: Yahoo News
Image: MSN News