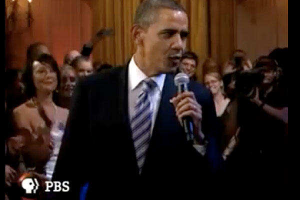 The president just couldn't say no: Mick Jagger held out a mic almost by way of command, and soon Barack Obama was belting out the blues with the best of them.
The East Room of the White House was transformed into an intimate blues club on Tuesday night for a concert featuring blues all-stars of the past, present and future — and the president himself. The surprise performance by Obama came at the end of the playlist when the blues ensemble was singing "Sweet Home Chicago," the blues anthem of Obama's home town. Obama was clearly savoring the moment, closing his eyes at times and nodding his head as he lip-synced the words. The president rose at the end to introduce the ensemble as the "White House Blues All-Stars" for the final song of the night, "Sweet Home Chicago."
"For Michelle and me," the president said, "there's no blues like the song our artists have chosen to close with — the blues from our hometown."
In advance of the concert, Grammy-winner Keb Mo had joked during a rehearsal break that Obama himself would perform, and there could even be a record in the works. He joked that Obama's record would be called, "After the second term, now I can finally get my groove on." Maybe he wasn't joking after all.
The blues concert will be part of the "In Performance at the White House" series that airs on PBS. This one, designed to recognize Black History Month, will be broadcast on Monday on PBS stations and aired later on American Forces Network.
Source: Yahoo News
Image: Big Board News