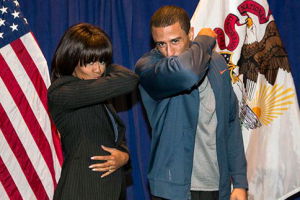 Kaepernicking has officially reached the White House. It seems San Francisco 49ers star quarterback Colin Kaepernick got to meet the first lady, Michelle Obama.
'Last Kaepernicking pose'
When fate hands you an opportunity like this, you make damn sure to make the most of it. Kaepernick does just that. Yup, there you have the very last Kaepernicking pose we ever need. When the first lady kisses that famous arm, all of your poses are rendered obsolete.
'Athletic meme'
For those fortunate few who are unaware of the viral pose, NBC Bay Area recalls the meme started back in the divisional round of the NFC playoffs when the 49ers downed the Green Bay Packers. In case you forgot, the report points out that the 25-year-old who grew up in Turlock, Calif., made sure to trademark the pose. I guess Obama owes this man some royalties then.
Of course, this is just the latest athletic meme to take over the nation. The most famous was the Tebowing craze that dominated every office, bar or any other venue with oh-so-clever sports fans. From Tebowing, we were given Griffining, which called for fans to sit on the ground and raise each arm in triumph.
This is hardly the last we will see of his victorious arm pose. But please, leave the poses to the professionals.
Do you think the Kaepernicking pose is cool or not? Tell us your thoughts via the comment box below!
Source: Gabe Zaldivar, Bleacher Report
Image: Politico