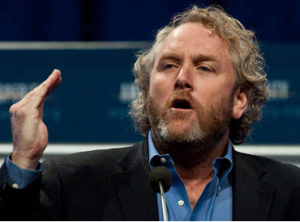 Andrew Breitbart, the outspoken conservative writer, activist and website operator, has died unexpectedly in Los Angeles, where he lived with a wife and four young children. He was 43.
Breitbart, who may have been best known as the conservative who brought down ACORN, was pronounced dead at the UCLA Medical Center shortly after midnight on Thursday, the Los Angeles County coroner's office told Yahoo News. The cause of death was not immediately known, a spokesman at the coroner's office said. One of his websites, BigGovernment.com, announced his death early Thursday.
Perhaps Breitbart's biggest and most recent claim to fame was his outing of New York Rep. Anthony Weiner last June. Breitbart's BigGovernment.com website broke the original story of Weiner's lewd Twitter photo, which the Congressman initially denied was his. But, Breitbart finally forced his hand with the threat of more photos. At Weiner's infamous second press conference where he confessed his improprieties, Breitbart stole the show, preempting Weiner by grabbing the microphone and taking questions from reporters.
In 2010, though, Breitbart's credibility had been burned after his website posted video excerpts of a 40-minute NAACP speech by U.S. Dept. of Agriculture employee Shirley Sherrod that appeared to show her making racist comments. Breitbart drew heat when the speech was published in full, showing that selectively edited video had taken the remarks out of context–and Sherrod had been fired for it.
Breitbart's early foray into journalism began when he helped launch the Huffington Post before moving to the Drudge Report–where he served as Matt Drudge's deputy — and eventually launching his own cache of right-wing websites, including Breitbart.com, Breitbart.TV, Big Government, Big Hollywood, Big Journalism and Big Peace.
Source: Yahoo News
Image: The Guardian