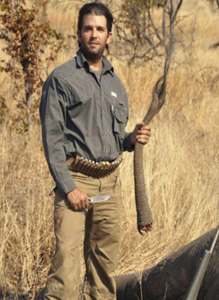 Donald Trump, Jr. and Eric Trump have drawn the ire of PETA after photos surfaced showing the brothers on a wild game hunting trip in Zimbabwe last year.
TMZ first posted photos from the trip under the headline, "Donald Trump's Sons Ignite War Over Animal Butchery." During the hunting trip, the Trump sons reportedly killed a number of exotic animals, including an elephant, crocodile, kudu, civet cat and waterbuck.
Trump was quick to defend his sons, telling TMZ, "My sons love hunting. They're hunters and they've become good at it. I know that anything they did was 100% OK in terms of the hunting community." However, Trump was equally quick to note that he himself does not share in the sport, saying, "I am not a believer in hunting and I'm surprised they like it."
In one of the more controversial photos, Donald Jr. is seen grinning broadly while holding the severed tail of an elephant in his hands. He defended his actions on his Twitter account, saying that he was simply taking part in a local custom.
In a joint statement released by the Trump brothers, they defended their actions and noted that all of the meat killed in their hunting expedition was donated to local villagers.
Source: Yahoo News
Image: Wikileaks News