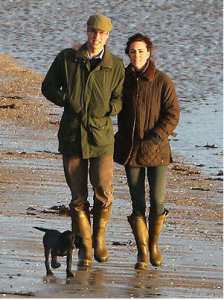 Prince William and Kate Middleton were rumored to be parents of a puppy around New Year's, when the Duchess of Cambridge was pictured running around her parents' Bucklebury estate with two dogs.
Now it has been confirmed by the palace that the royal couple have a black cocker spaniel puppy, a rumored Christmas gift from the prince to his wife.
A royal rep told E! News that the puppy comes from a litter "known to the couple through a family connection." The Middleton family also has a cocker spaniel, which the UK Express reports is their go-to breed, and the reason the royal couple likely made the decision to get another one. Us Magazine reported that William and Kate were pictured on the beach with their puppy in Anglesey earlier this month.
Initial reports had stated that the couple had adopted a chocolate Labrador puppy. A name for their newest addition to their family hasn't been released yet.
The royal family has been known to be a family of dog lovers, as Queen Elizabeth has known to be a Corgis lover in particular. In August, Prince Charles and Camilla adopted a Jack Russell Terrier that they named Beth.
Source: The Celebrity Cafe
Image: People