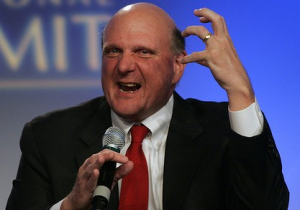 Almost one year ago today, we laid out the nightmare scenario for Microsoft (MSFT) that could lead to its business collapsing. After laying it all out, we concluded, "Fortunately for Microsoft, none of this is going to happen." We were wrong. Microsoft's nightmare scenario is actually starting to take hold.
The iPad eats the consumer PC market.
In the third quarter of 2012, PC sales were down 8 percent on a year-over-year basis worldwide. A big chunk of the decline can be attributed to the rise of the iPad. Throw in Apple's 4.9 million Macs, and it's the top computer maker by a mile.
Windows 8 fails to stop the iPad.
Gulp. It's still early, but every most data points say Windows 8 is not going to make a dent in the iPad. In Microsoft's defense, it says it sold 40 million licenses, which it says is out pacing Windows 7. There's a chance analysts are wrong.
Loyal developers start to leave the Microsoft platform.
So far, the early signs are actually positive for Microsoft. It has over 20,000 apps in its Windows app store. Windows 8 is only a month old. At the same time, Microsoft doesn't have a Facebook app for the Surface, and one of the biggest complaints from reviewers was the lack of good apps for Windows 8.
Windows Phone gets no traction despite the Nokia deal and RIM's collapse.
Despite everything Microsoft has tried in mobile for the last two years, consumers aren't buying it. And the latest phone from Nokia is thick and heavy compared to phones from Apple and Samsung. We don't expect it to be a blockbuster.
Microsoft suffers a huge quarterly loss. Ballmer retires to play golf.
Let's not kid ourselves — it's going to take a sudden, unexpected disaster at Microsoft to get Ballmer out of the company. In 2012, Microsoft had its first ever quarterly loss as a public company because it had to write down the $6.2 billion acquisition of aQuantive.
Given the latest happenings, do you think Microsoft can still pull through? Team Microsoft or Team Apple?
Image: Bald Celebrity