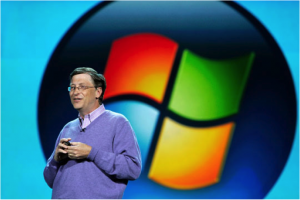 Earlier today, at a PC conference, the company Microsoft officially unveiled the newest features on their latest operating system, unofficially called the "Windows 8" system. The next generation OS delivers a completely new user interface, with emphasis on the latest technologies, including the use of the touch screen. The new system also took much of its interface from the Windows Phone IU, Microsoft's version of the iPad.
While the new OS seems to take initiative in placing compatibility with the current tablet touch screen technology, it is still compatible to the good old mouse and keyboard. The unveiling also places emphasis on the fact that the new OS is still in its early stages and that there are several more adjustments and improvements to make before it is officially released.
"We are excited to bring an innovative new platform and tools to developers and see how their creativity jumpstarts a new generation of apps. Windows 8 apps can use a broad set of new libraries and controls, designed for fluid interaction and seamless connectivity." said the company in a release statement made in their website.
"We're just getting started." said the statement. The first look at the new OS has been impressive and if this is indeed just the start, then consumers can look forward to many new innovations and improvements when the OS is set to be released by fall of next year.  The statement added that they would be releasing the updates on the new system through their company blog, much like what they did before the release of Windows 7.
The new look and feel is, by far, the biggest leap that Microsoft has made in terms of look and interface. The new tile system allows for multitasking and for faster switching between apps but it is such a departure from over 20-plus years of user interface that it may confuse or even turn off their loyal consumer base. The new look seems to be more of an adaptation to today's trends which prefer the use of touch screens and tablets.
In recent years, Microsoft has had a hard time competing with rival company Apple. Apple has had skyrocketing success with their new iPad products and iOS software that they were able to leapfrog Google to become the number one company in the world. Microsoft remains in third place but there is definite pressure to come up with better products and software to keep in pace with their competition.