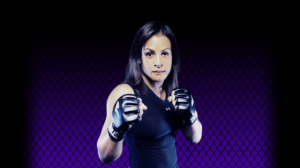 Fallon Fox was born a man.  In 2006, when she was 30, she had gender reassignment surgery. Fox is now an MMA fighter for the Championship Fighting Alliance (CFA).  Fox says she now wants to fight "at the highest level" — which in the MMA world is only one place — the UFC.
'A woman in every respect'
Fox insists she is a woman in every respect and just happens to fall into the category of postoperative transsexual.  She compares herself to any other category of women, including blacks, lesbians and the disabled. Fox says she has no advantage over naturally born women.
'Hasn't proven herself yet'
The owner of CFA, Jorge De La Noval, tells TMZ, "CFA is an organization which does not discriminate against any fighter … as long as they are professionally licensed."
As for fighting in the UFC, Dana White tells us to fight in the UFC … Fox would have to get the green light from the state athletic commission.  But he also says Fox hasn't proved herself yet … the 2 women she's beat have never won a fight.
So, should they allow Fallon Fox to fight in the UFC? Do you think that's fair to allow transgenders to fight women in contact sports? Feel free to share your opinions with us via the comment box below!
Source: TMZ
Image: Fallon Fox MMA