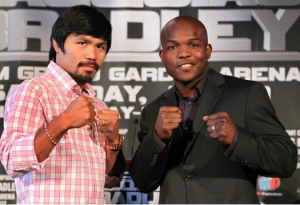 Five independent judges hired by the World Boxing Organization became the latest to conclude that Manny Pacquiao defeated Timothy Bradley when they fought for the welterweight title on June 9 in Las Vegas.
WBO president Francisco "Paco" Valcarcel announced on June 13 he would have a panel of what he called "five international judges" review the scoring of the highly controversial bout. Bradley won a split decision and ended Pacquiao's seven-year winning streak in a result that outraged the sporting world. Judges Duane Ford and C.J. Ross each scored the bout 115-113 for Bradley, while Jerry Roth saw it 115-113 for Pacquiao.
The outrage at the call was so great that less than 24 hours after the bout concluded, Top Rank promoter Bob Arum told Yahoo! Sports he would ask Nevada attorney general Catherine Cortez Masto to investigate the fight. Arum wants the investigation because the public and many boxing websites have accused him of fixing the fight and having a hand in the judging.
Valcarcel would not identify the five judges he had review the tape of the fight, but he said they were well-known, respected officials.He said all five scored it for Pacquiao. One of the judges had it 118-110, or 10 rounds to two. Two of them had it 117-111 (the same that Yahoo! Sports scored it on fight night), one had it 116-112 and the other had it as Roth did, 115-113.
Valcarcel kept a promise not to strip Bradley of the belt. He ordered a rematch, but there was a rematch clause in the contract and Pacquiao has said he wants to exercise it. Upon hearing the news of the WBO's reviews, Pacquiao told reporters in the Philippines he was pleased and that he would defeat Bradley in a rematch to regain the title. Arum, though, said he wouldn't agree to a rematch until he spoke with Pacquiao and explained the ramifications.
Should a rematch between Pacquiao and Bradley take place on November, which boxer would you bet on?
Source: Yahoo News
Image: Inside HBO Boxing