20 April 2011 Last updated at 05:24 GMT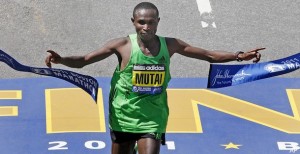 Kenya's Geoffrey Mutai set a new world record by finishing the Boston Marathon with a time of two hours, three minutes and two seconds. The record for the distance of 26.2 miles was previously held by Haile Gebrselassie when he ran in Berlin in 2008. Despite finishing the course in record time, the international governing body for track did not recognize Mutai's run as the record.
The governing body did not recognize Mutai's feat because of the structure of the race. The authorities stated that the race had a strong tailwind with a downhill course, making it easier for a runner to dash across the course. Mutai's record was almost 3 minutes faster than last year's champion, Robert Kiprono Cheruiyot.
Fellow Kenyan Caroline Kilel won the women's leg of the race, finishing with a time of 2 hours, 22 seconds minutes and 36 seconds. Kilel out-sprinted and defeated American Desiree Davila by just two seconds. Davila had lead in the final leg of the race and ran the fastest time ever by an American woman. Davila's time was five seconds faster than Joan Benoit, who had won the Boston Marathon in 1983 in what was the record breaking mark at the time.
No American man or woman had won the Boston Marathon since Lisa Larsen-Weidenbach finished first place in 1985. Ryan Hall had the fastest record by an American this year with a time of 2 hours, 4 minutes and 58 seconds, good enough to finish at 4th place. Another American, Kara Goucher, ran a personal best of 2 hours, 24 minutes, and 52 seconds.
For their performance, Mutai and Kilel will each receive $150,000. Mutai earned another $50,000 for finishing the race in world breaking record time and another $25,000 for breaking the course record. Mutai was running neck and neck with fellow Kenyan Moses Mosop for the final miles before breaking ahead and winning by four seconds. Mutai is the 19th Kenyan to win the Boston marathon in the past 21 years.
The reigning men's champion, Cheruiyot, was only able to complete half the race after recently suffering an injury from a car accident in Kenya. Japanese Masazumi Soejima and Wakako Tsuchida each won the men and women's wheelchair division. This was Soejima's second straight win, while it was the 5th straight for Tsuchida. The weather in Hopkinton, Massachusetts was perfect weather for a marathon, with the temperature in the high 40's and the wind blowing down course.