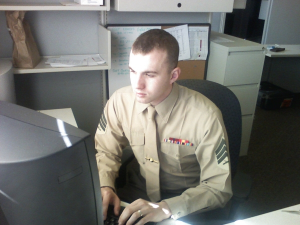 Marine Sgt. Gary Stein first started a Facebook page called Armed Forces Tea Party Patriots to encourage service members to exercise their free speech rights. Then he declared that he wouldn't follow orders from the commander in chief, President Barack Obama. While Stein softened his statement to say he wouldn't follow "unlawful orders," military observers say he may have gone too far.
The Marine Corps is now looking into whether he violated the military's rules prohibiting political statements by those in uniform and broke its guidelines on what troops can and cannot say on social media. Stein said his views are constitutionally protected.
While troops have always expressed their views in private, Stein's case highlights the potential for their opinions to go global as tech-savvy service members post personal details, videos and pictures that can hurt the military's image at home and abroad.
According to Pentagon directives, military personnel in uniform can't sponsor a political club; participate in any TV or radio program or group discussion that advocates for or against a political party, candidate or cause; or speak at any event promoting a political movement. Commissioned officers also may not use contemptuous words against senior officials, including the defense secretary or the president.
The Marine Corps said Stein is allowed to express his personal opinions as long as they do not give the impression he is speaking in his official capacity as a Marine. Spokesman Maj. Michael Armistead said the Corps is taking a closer look to ensure Stein has not crossed that line.
Source: Yahoo News
Image: Soda Head