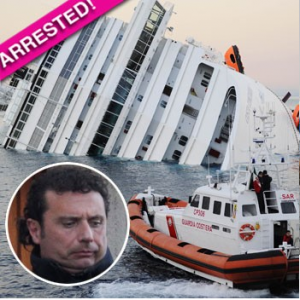 The captain of the cruise ship that wrecked off Italy's western coast will be questioned by authorities Tuesday at a hearing, his attorney said.
Francesco Schettino is under arrest and may face charges that include manslaughter, shipwreck, and abandoning a ship when passengers were still on board, according to Italian prosecutor Francesco Verusio. Schettino could face up to 15 years in prison.
The captain's attorney, Bruno Leporatti, said in a statement Monday that Schettino was "shattered, dismayed, saddened for the loss of lives and strongly disturbed. "But, he said, Schettino is "nonetheless comforted by the fact that he maintained during those moments the necessary lucidity to put in place a difficult emergency maneuver … bringing the ship to shallow waters." That move, Leporatti said, saved the lives of many passengers and crew members.
Late Monday, the head of Italy's coast guard said 29 people remained unaccounted for from the partially sunken cruise ship Costa Concordia — a sharp spike from earlier estimates of the missing. Coast guard chief Marco Brusco said the whereabouts of four crew members and 25 passengers were unknown, Italy's ANSA news agency reported.
Schettino, who has been with Costa since 2002, had never been involved in an accident before, Foschi said. The company had said earlier that Schettino may have made "significant" errors during the travel in Europe that led to the wreck. There were roughly 4,200 people on the Costa Concordia when it ran aground.
Source: CNN
Image: Radar Online