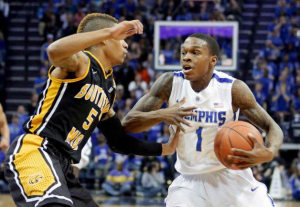 As reported by Memphis CBS affiliate WREG and the Memphis Commercial Appeal, 22-year-old McKinzie Sewell used a fake transcript to enroll at Memphis (Tn.) Ridgeway High, where he starred on the boys basketball team. Sewell's transcript was allegedly submitted to the school by his wife, who posed as his mother so he would have a back story to explain why he was enrolling at the school.
'Never previously graduated'
Sewell never previously graduated from a high school, but he earned a GED. Somewhat ironically, he wore the number 22 for Ridgeway, identical to his age. He also set up a BeRecruited profile under his name portraying himself as an 18-year-old senior at Ridgeway.
'Removed from the tournament playoffs'
"It has come to our attention that an ineligible player played in the closing minutes of the Region 8-AAA semi-finals against Whitehaven High School," Memphis Community Schools said in a statement. "Ridgeway High School reported this information to the Tennessee Secondary School Athletic Association [TSSAA]. Ridgeway HS has forfeited that game and has been removed from the tournament playoffs."
That removal has effectively ended the season for a group of players who had overcome significant hardship to reach the state semis. Most notably, one of the team's assistant coaches was killed in his home in February. Now the team will have to stay home, with parents of the players furious at the Memphis Community Schools' inability to catch Sewell before he had suited up for a game.
How did McKinzie Sewell get away with posing as a high school player? Is Memphis Ridgeway High also at fault here?
Source: Cameron Smith, Yahoo Sports
Image: My Fox Memphis