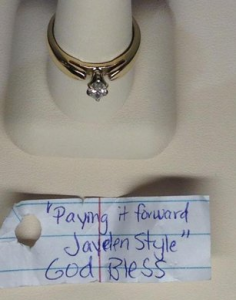 When Salvation Army organizers sifted through donations from Midland, Michigan, on Dec. 4, they found something more than the typical handfuls of change and dollar bills: An engagement ring and a handwritten note. The ring was a Marquise-cut diamond in a gold setting, worth about $2,000. The note attached simply read: "Paying it Forward Jayden Style. God Bless."
'Small way to say thank you'
It was in honor of Jayden Lamb, who died at MidMichigan Medical Center on November 27 after a two-and-a-half-year battle with cancer. He was 8 years old, a third grader at Pine River Elementary School. He would have been 9 on Wednesday, Dec. 12. After Jayden's death, the Lamb family coped with their grief by doing little things to help others.
"The 'Pay it Forward Jayden Style' movement actually started the day before the showings of his funeral when we were just getting coffee," the Lambs told Yahoo! Shine. "Not knowing the person behind us, we still felt compelled to buy their coffee. It was just a small way for us to say thank you."



'Random acts of kindness'
After his funeral on December 1, the family went to a local Walmart and asked to pay off someone else's layaway bill. And so the challenge began. The Lambs asked people to help others and document their good deeds on their Facebook page, "Keep On Truckin' Team Jayden" which they had launched in August so people could follow Jayden's progress.
Friends, family, and members of the community responded immediately. "Keep on Truckin' Team Jayden" now has more than 24,000 fans, and is filled with dozens of stories about random acts of kindness and generosity. The outpouring of good will isn't just about being caught up in the Christmas spirit. It's about celebrating the spirit of a brave child and helping others, and the Lambs hope that it will continue long after the holidays are over.
Have you been inspired by the 'Pay it Forward Jayden Style' movement? Tell us about your recent random act of kindness!
Source: Yahoo News
Image: MSN