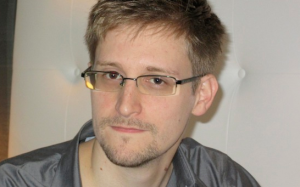 An ex-CIA employee who leaked details of US top-secret phone and internet surveillance has disappeared from his hotel in Hong Kong. Edward Snowden, 29, checked out from his hotel on Monday. His whereabouts are unknown, but he is believed to be still in Hong Kong.
'Criminal matter'
Earlier, he said he had an "obligation to help free people from oppression". It emerged last week that US agencies were gathering millions of phone records and monitoring internet data. A spokesman for the US Office of the Director of National Intelligence said the case had been referred to the Department of Justice as a criminal matter.
Meanwhile a petition posted on the White House website, calling for Mr Snowden's immediate pardon, has gathered more than 30,000 signatures. However an opinion poll commissioned by the Washington Post suggests a majority of Americans think government monitoring of phone records is acceptable if the aim is to fight terrorism.
'Prism'
Mr Snowden was revealed as the source of the leaks at his own request by the UK's Guardian newspaper. His revelations have caused transatlantic political fallout, amid allegations that the UK's electronic surveillance agency, GCHQ, used the US system to snoop on British citizens. Foreign Secretary William Hague cancelled a trip to Washington to address the UK parliament on Monday and deny the claims.
On Thursday, the Washington Post and Guardian said the NSA tapped directly into the servers of nine internet firms including Facebook, Google, Microsoft and Yahoo to track online communication in a programme known as Prism. All the internet companies deny giving the US government access to their servers. Prism is said to give the NSA and FBI access to emails, web chats and other communications directly from the servers of major US internet companies.
Are you in favor of using the government collecting phone and internet records? Do you think Edward Snowden will be jailed for the information he leaked out?
Source: BBC News
Image: The Raw Story