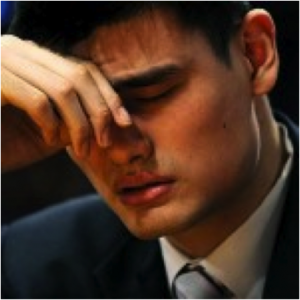 In Shanghai, NBA player and Chinese basketball star Yao Ming announced that he would be retiring from playing professional basketball. His retirement comes after a career of helping establish basketball in China and the rest of Asia. The 7-foot-six Yao Ming had been one of the most recognizable athletes in his home country, and became a household name while playing for the Shanghai Sharks and the Chinese National team.
Yao was then drafted as the first overall pick in the 2002 draft by the Houston Rockets. The Rockets and the League had high expectations from the young center and dubbed his arrival as the start of the Ming Dynasty. Yao had played a total of 8 seasons but missed a combined 250 games in the past six years due to injury. Because of a variety of foot and leg injuries, the Chinese star officially retired today at the young age of 30.
"Today is an important day for me and holds a special meaning for both my basketball career and my future," said Yao with a translator. "I had to leave the court since I suffered a stress fracture in my left foot for the third time at the end of last year. My past six months were an agonizing wait. I had been thinking about my future over and over. Today I am announcing a personal decision, ending my career as a basketball player and officially retiring. But one door is closing and another one is opening."
Yao said that he will be partly working with his former team, the Shanghai Sharks, and will take up a managerial position with his team. He will also continue with his philanthropic work with his Yao foundation. NBA commissioner made statements about Yao's impact on the game of basketball in Asia and the World. Houston Rockets general manager also travelled to China to be there for the retirement press conference.
The press conference was held in the Grand Shanghai Ballroom. Yao was accompanied by his wife, Ye Li, their 14 month old daughter Yao Qinlei, and Yao's parents Yao Zhiyuan and Fang Fengdi. In the press conference, Yao also thanked his family, friends, his coaches in Houston and China, and competitors such as Shaquille O'Neal for making him a better player.
Yao's official contract with the Houston Rockets expired after last season. The Rockets organization said that they would be interested in signing him again if he had fully recovered from his injury. But the fractures and stress on his feet and knees were too much for his body to continue playing competitive basketball.