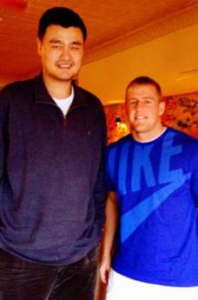 I saw Yao Ming up close in person one time, at the NBA All-Star Game in Las Vegas a few years back. And even among the NBA's best players, Shaq and Dwight Howard included, Yao was the only one who was so big you couldn't help but stop and stare as he walked by. He looks like he's riding on someone else's shoulders. It was amazing to see.
'Cool picture'
If you saw J.J. Watt on the street, you'd probably do a double take even if you didn't immediately recognize him, just because he's such a large human being. He's 6-foot-5 and 295 pounds. By any reasonable standard, that's enormous. Next to Yao, in a cool picture of two Houston sports icons, just look at how small a 6-5, 295-pound man looks.
'Freakishly large'
Yao, who is listed at 7-6, 310 pounds on his NBA.com profile page, is a full head taller than Watt (and what a head that is on Yao). Watt was already thinking of what Yao could do at the other defensive end spot for the Texans.
While NFL linemen are enormous individuals, it shouldn't be forgotten how freakishly large most NBA big men are, especially Yao. Watt is right: Imagine an NFL quarterback trying to throw over that guy on the line on scrimmage.
Do you think this picture of Yao Ming and J.J. Watt is cool? Which sport do you prefer watching — basketball or football?
Source: Frank Schwab, Yahoo Sports
Image: Fox Sports